Details for the The SGTC Mega-Launcher
Finally......After many months of collecting dust in my shop, the "Mega-Launcher" has actually been taken out and tested. And HOLY S**T does it ever pack a whollop!!!!! Using 20 and 24 oz. plastic soda bottles as the primary "ammunition", this thing takes the concept of "obnoxious toy" to a whole new level.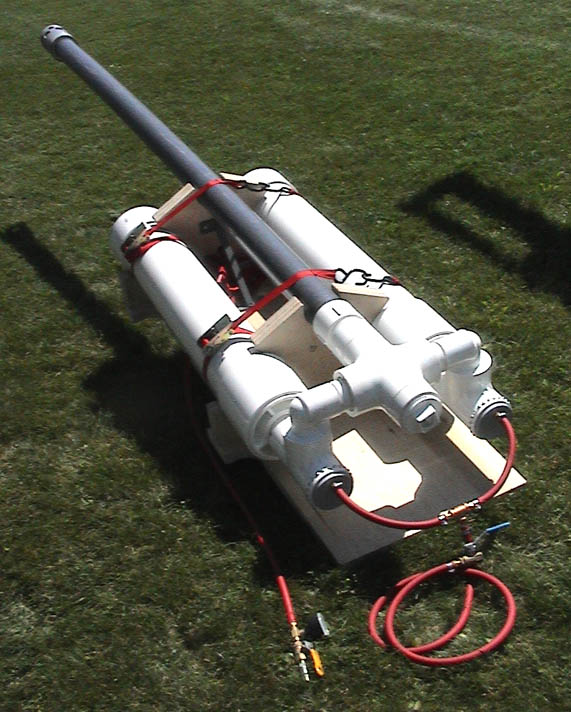 Construction/Operational stats:
Twin 6" x 36" sch 40 chambers. (2035 cu. in.)
Dual Supah-Valves.
8' long, 3" dia. sch 80 barrel.
Ported muzzle break.
Breech loadable.
9' 6" overall length.
70 lbs. total weight.
Massive recoil!!
Primary "ammo" -- 20 and 24 oz. plastic soda bottles.
Muzzle velosity -- Forgot to bring my chrono along....sorry.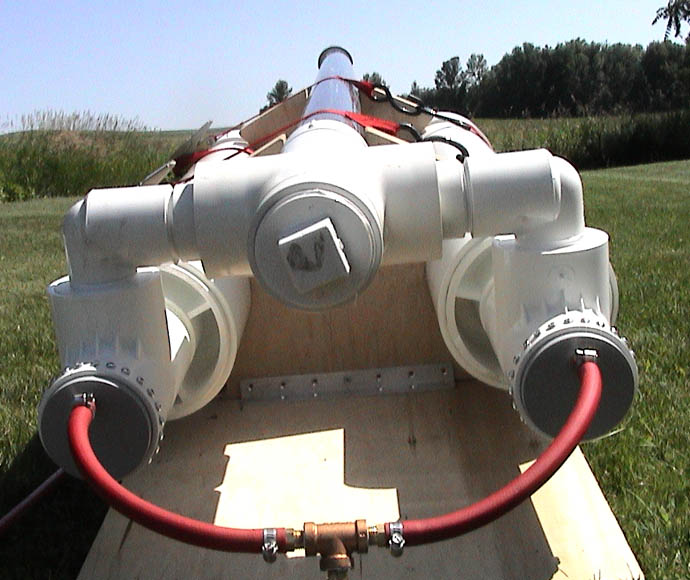 While the total range with a full 20 oz. soda bottle is not overly impressive, (only about 300 - 400 yards @ 15 deg. of elevation) it is devistatingly powerful at closer ranges.
Mega-Launcher testing videos:
Check out the pics below. The last several pics are freeze-frame's taken from the video footage.
This product is not available for purchase at this time.