Details for the TSL2500 T-Shirt Launcher
The next generation T-shirt launcher. The TSL2500!!
Built over-and-under configuration with a 1.75:1 4"x36" chamber, 3" x 3' long T-shirt barrel, detachable side mounted pistol grip firing control, and the new on board charging system that can be hooked up to a remote source of compressed air or CO2 without the chamber being constantly charged. Featuring the new and improved, faster actuating Supah-Valve: offering the instantaneous operation of a diaphragm valve, the unrestricted flow rate of a piston valve, and convenience of just squeezing a trigger.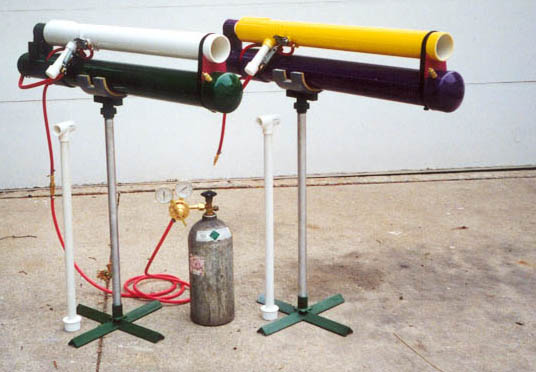 These suckers really rock and roll. In my testing of this launcher, standing at the back of my shop I could launch a shirt (just folded and rolled, no tape or rubber bands) over my 2 story house and onto the porch of the neighbors across the street (about 85 yards) at 100 psi. With a rubber band I shot one 2 city blocks over. Granted this kind of range isn't needed for most applications but it will certainly put a shirt high into the the stands at even the largest stadiums if needed. More docile launches are achieved by simply using less pressure. Also pictured is the new CO2 system. Nothing fancy but it allows for the safe operation of this or any other pneumatic launcher from a high pressure gas bottle. See bottom of page for a closer look at the regulator.
One of my customers said he loves it. He could fit 5 shirts in the barrel at one time and shoot them 100 feet into the air at 80 psi. This is ideal for anyone that needs to distribute as many shirts as possible in a short amount of time.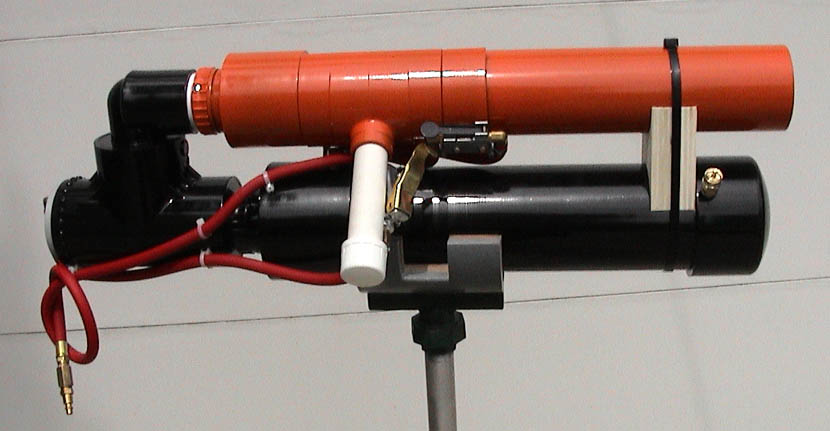 Above is an example of the TSL 1500. It features the exact configuration as the 2500...but it is only half the size. I built this one for a gentleman that wanted to use it for launching hot dogs and bratwurst into the stands at sporting events. A good choice for indoor events or small outdoor venues.
Here is his feed back about the launcher:
JOEL!!
Thought I should get back to you. The University of the Pacific is having a great time with the launcher. they shoot 4 hot dogs at a time - they go in 4 different directions. really coooool. they also shoot up to 2 t-shirts at one time. really exciting to see them float down to the fans. they're using compressed air. Anyway - just wanted to drop you a line to let you know that we are having fun fun fun! Would recommend your spudgun anytime to anyone!
Best regards, Cecil Mc Kie
You can order this launcher in the Spudtech Store.