New stuff
On this page you will see some cool custom jobs. These custom launchers are only availble by custom request.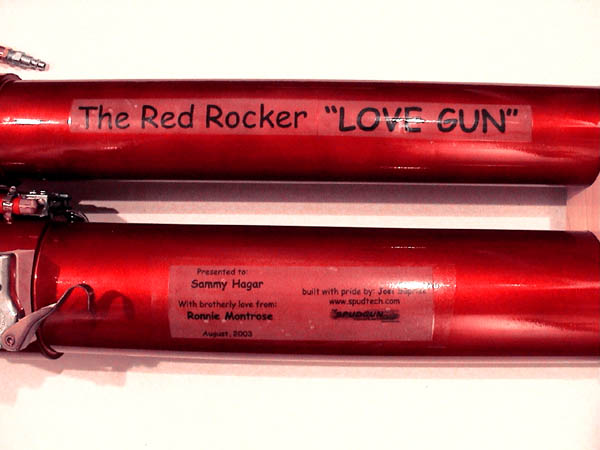 The "LOVE GUN"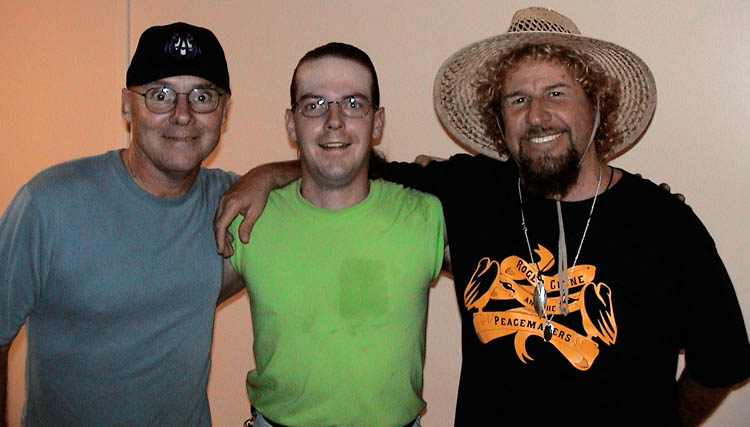 Joel (Previous Owner) was contacted by Ronnie Montrose about building a t-shirt launcher as a gift for Sammy Hagar to be presented to him during the Montrose reunion concert in Minneapolis. The top Pic is the Red Rocker "Love Gun" that he constructed. The above pic is (L to R) Ronnie Montrose, Joel, and Sammy Hagar after the concert.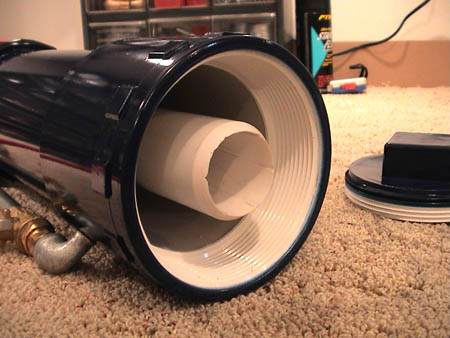 1.5:1 ratio, coaxial, breach loading combustion spudgun. This launcher features a 3 foot long 1.5" rifled barrel and the entire launcher is only 37" long.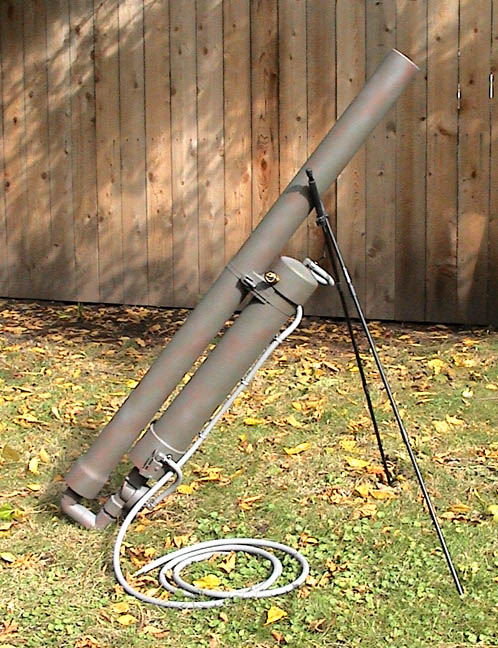 This is a paintball/airsoft mortar. It's basically a variation of an LP Series launcher with a cheap bi-pod and a cool 3 color camo paintjob.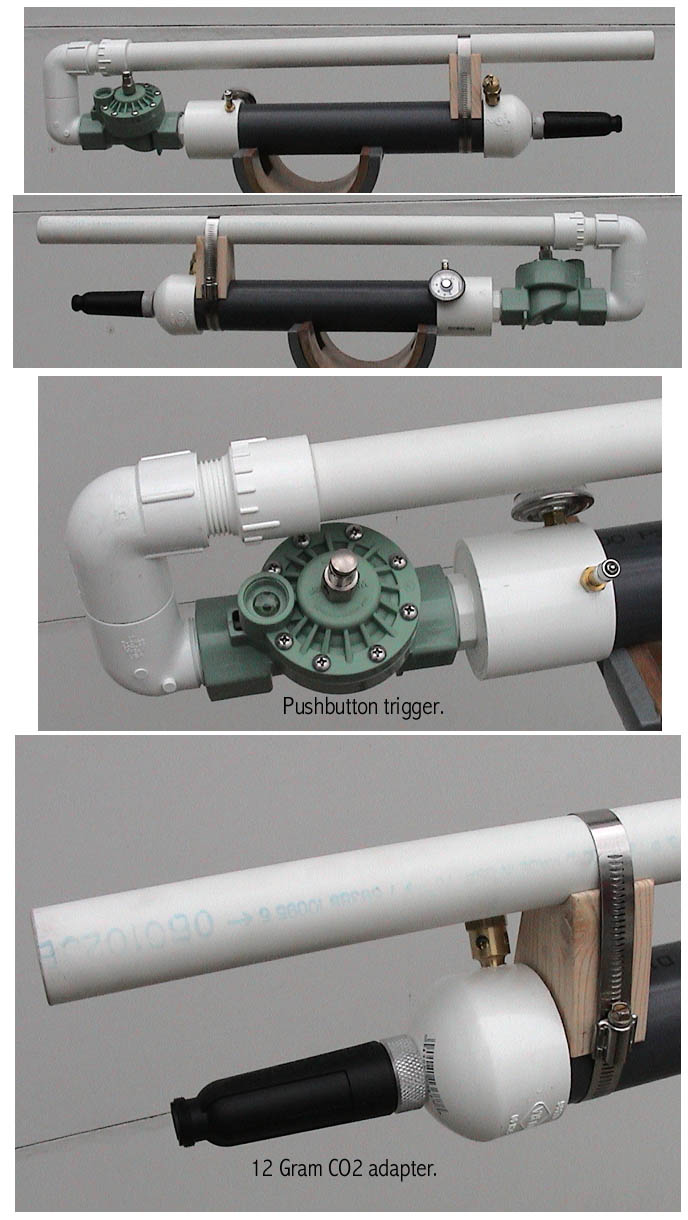 This thing is just a little bit off-the-wall. It's a pneumatic garter tosser that was built for a wedding. No self-respecting friend of the spudmaster would settle for the boring old "toss the garter over the shoulder" routine. Featuring a 1" x 2' barrel, 2" x 13" sch 80 chamber, modified sprinkler valve with a pushbutton firing valve, and a 12 gram CO2 adapter for portability. This little baby was the hit of the reception. Click HERE to see a video of this thing in action.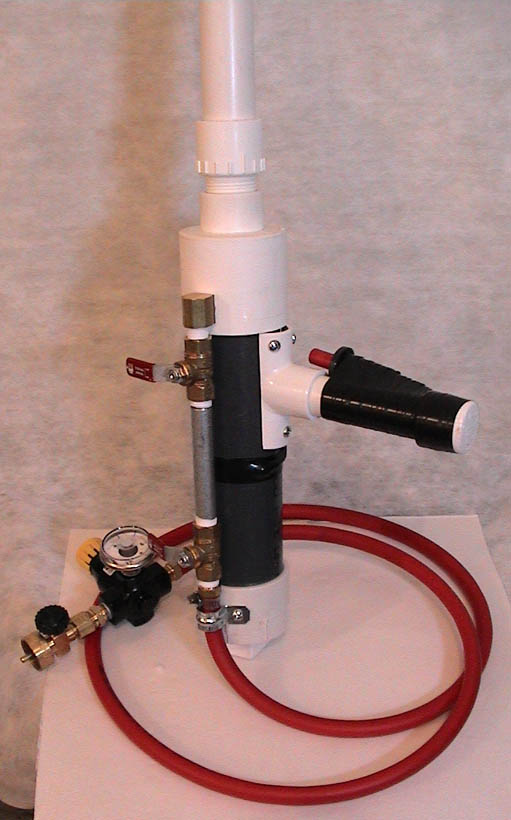 A "dinky ass little spudgun"!! Complete with a miniature propane metering system. It features a 2 foot long 1" dia sch 40 barrel and a 9 inch long 2" sch 80 chamber for a 1.5:1 ratio. The entire launcher is only 36" long. This was built for a gentleman that wants a bait caster for his 85 year old father who likes to fish but can't swing a fishing pole all day. A 4 oz. sinker fits real nice in the barrel with a piece of paper toweling as a wad.

This is a rapid fire ping-pong ball launcher that was built for a marketing/entertainment company. The 4" screw cap comes off and 200 pingpong balls get dumped into the chamber. The little nipple that comes off the back gets hooked up to the exhaust of a wet/dry vac. The high volume of air blowing through the unit funnels the balls into the barrel and then blows them out. It only has a range of about 75 feet but for special effects/confetti/pingpong balls.....thats all you need. It was a fun project...different...but fun.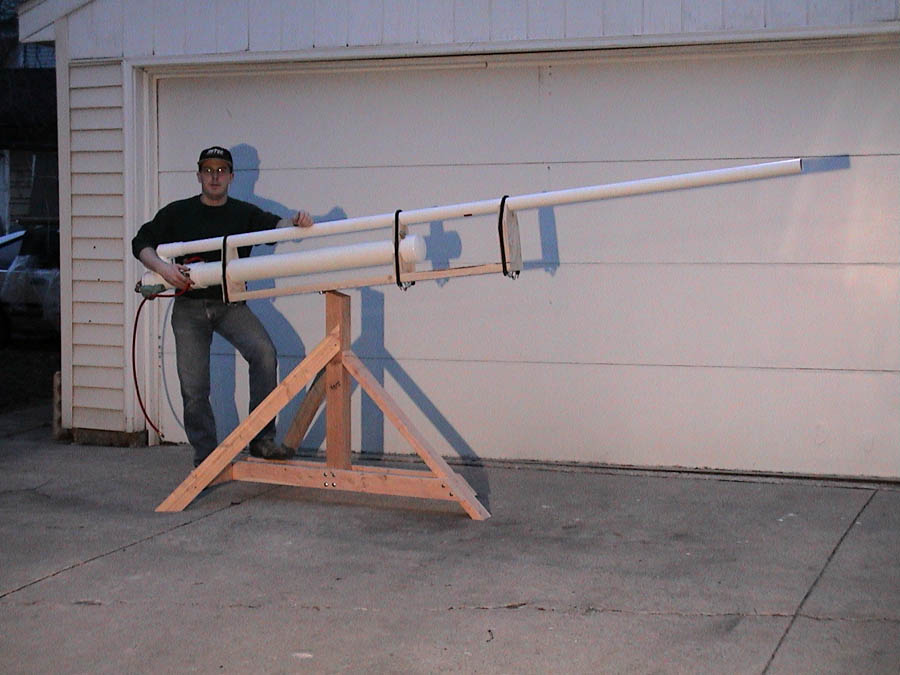 Joel (Previous owner) said he broke the sound barrier with this animal!!!!




document created 7/6/2002 3:59:28 AM; last modified 1/14/2010 8:55:57 PM